Albion Villas
Mauritius Asia & Indian Ocean
Resorts with children's/teens' clubs: Families, couples, friends
Golf
Scuba diving
Flying trapeze
tennis
Sailing
Spa & Wellness
Children & Teens
Our 5 Trident Resort welcomes children of all ages with supervision adapted to their age group.

● Privileged areas, specificly designed for them
● Equipment adapted to their comfort and security
● Opening hours enabling the parents to make the most of their day and evening and even leave on an excursion* with total peace of mind
● Strong of an experience of over 40 years, we offer innovative and fun activities that respect the rhythms of each child.Closed on Saturdays.
---
Childcare
Petit Club Med® (from 2 to 3 years old)
Optional Extra*
At this age, they're no longer babies, but they still need close supervision

It's the age of first discoveries, so Petit Club Med proposes early learning activities, walks and outdoor games; a well-balanced lunch devised specially for the needs of growing children followed by a nap or quiet time, creative activities, and of course tea time, always a favourite moment of the day!

The activities follow the children's progress, divided into age groups. From 7.30 pm, after dinner with their parents, they go back to the Petit Club Med®. While parents enjoy a quiet dinner, the children can enjoy their own evening with their friends.

For information:

The adult accompanying the child must be able to show that he or she meets the minimum vaccination requirements for children (child health record or medical certificate).
Diapers and formula are not provided by Petit Club Med®.
Access conditions :
Minimum age : 2 year(s)
Maximum age : 3 year(s)
---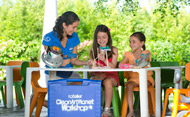 Mini Club Med® (from age 4 to 10 years old)
Included in your package
Create and have fun. At these ages, children want a taste of everything...Mini Club Med® is prepared to answer this need of uncontrolled discovery.A multitude of activities, depending of their age group, whether it is sports, creative workshops or just games.

Access conditions :
Minimum age : 4 year(s)
Maximum age : 10 year(s)
From 4 to under 11 years old.

---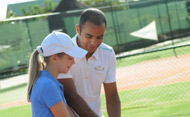 Juniors Club Med (11 to 17 years old)
Included in your package
Freedom and fun for teenagers.
.
Offered during school vacations, it's a Club Med classic for teens, they are split into two age groups(11 to 13 years old and 14 to 17 years old).

Club Med offers everything but imposes nothing. A real mind set that the teenagers love. Junior Club Med enables them to meet amongst themselves and hang out or take part in the resort activities.

Access conditions :
Duration : 6 days out of 7
Minimum age : 11 year(s)
Maximum age : 17 year(s)

---
Hotel services for your children
BABY SITTING*
BABY SITTING*
To enjoy a moment in total freedom, make the most of our baby sitting service available in the villa.For your information: a list of baby sitters is provided for you, but at no time can Club Med be held responsable for this service.
CLUB MED BABY WELCOME (FROM BIRTH TO 23 MONTHS OLD)
CLUB MED BABY WELCOME (FROM BIRTH TO 23 MONTHS OLD)
Everything for the comfort and well-being of babies and their parents! Personal welcome, childcare equipment available in your room and/or baby food equipment (cot, baby changing mat, baby bathtub, high chair upon request, and bottle warmer), and suitable food (savoury and sweet baby foods, baby corner with utensils necessary for preparing food, high chairs and/or booster cushions in the restaurant). Spare pushchairs are also provided.
PYJAMAS CLUB®*
PYJAMAS CLUB®*
The Pyjamas Club® is a group babysitting service (no specific activities). It enables parents to leave their children with a team of experienced and qualified G.O®s in a dedicated area with all the necessary comforts (beds, couches, video area, etc).
---
Exclusively for your children
"Teen Spa"*
"Teen Spa"*
The Club Med Spa by CINQ MONDES opens it's doors to teens.
A specific menu of beauty treatments (no massages**) is available at certain times to get them to discover the world of well being.
Booking on site only.

**For your information, our massages are non medical and non paramedical. They are well being treatments and non therapeutic. The word "massage" can also mean a body sculpt technique, done by our professional practitioners or our beauty therapists.

Access conditions :
Minimum age : 11 year(s)
Maximum age : 17 year(s)

Petit Circus
Petit Circus
Circus workshops for children from 4 to 6 years old at Mini Club Med®, to discover the joys of the circus in small groups, with G.O®s trained in their discipline. The children take part in a show, where they can demonstrate what they have learnt.

Access conditions :
Minimum age : 4 year(s)
Maximum age : 5 year(s)

Petit Tennis
Petit Tennis
45 minute lesson nased solely on teaching through role play, where the child is at the heart of the story which will bring him knowledge of tennis without even noticing it.

Access conditions :
Minimum age : 3 year(s)
Maximum age : 4 year(s)

---
* at extra cost